The Julia and Ulysses S. Grant Home
n April 1848, the young Army officer Ulysses S. Grant was assigned to Detroit as the regimental quartermaster for the 4th Infantry. He arrived alone from his previous post in Sackets Harbor, New York. His wife, Julia Dent Grant, was visiting her parents in St. Louis.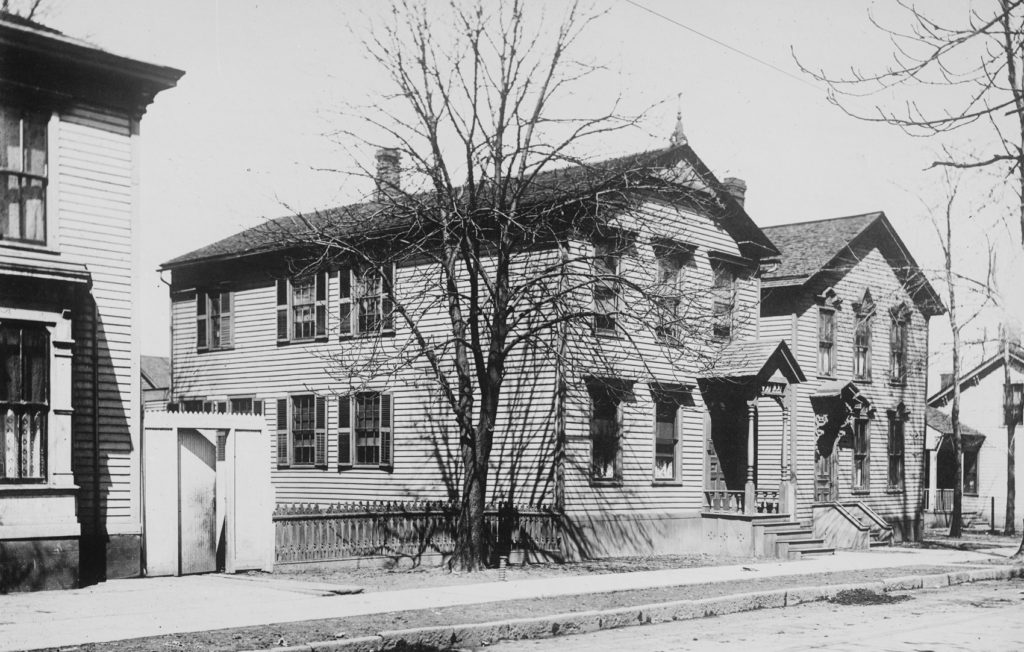 Grant secured the rental of a small, Greek revival home on the city's southeast side and wrote to Julia about it:
"My dearest Julia … I have rented a neat little house. … In the lower part of the house, there is a neat double parlor, a dining room, one small bedroom and kitchen. There is a nice upstairs and a garden filled with the best kind of fruit. There is a long arbor grown over with vines that will bear fine grapes in abundance for us and to give away. There are currants and plum and peach trees and in fact everything that the place could want to make it comfortable. I will have a soldier at work in the garden next week so that by the time you get here, everything will be in the nicest order."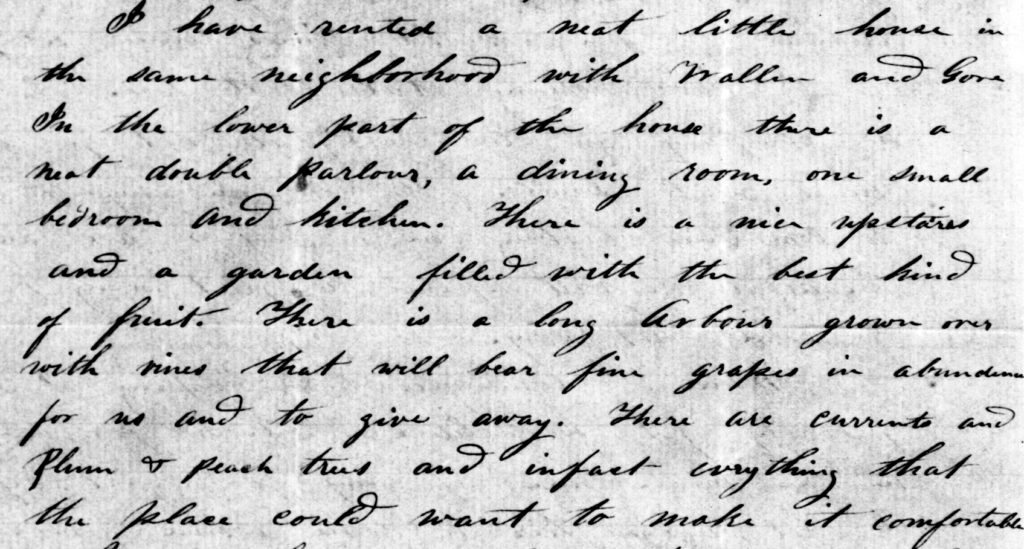 The home, which was built in 1836, was located at 253 East Fort street, between Russell and Rivard streets. Although this section of Fort street is gone, the home's original location would have been along the south side of today's Navarre Place in southern Lafayette Park.
The neighborhood was modest, but comfortable. Neighbors included military families, blacksmiths, shoemakers, laborers and peddlers. The neighborhood was popular with immigrants from France and Germany.
In a letter to Julia, Grant noted that he "will get [the home] in the best order I can before I start for you." The home needed new paint, inside and out. Grant obtained the materials for the repairs from his landlord, George M. Rich, and had soldiers from his unit to do the work.
When Julia arrived in Detroit in summer 1849, she thought their residence was "a sweet, pretty house." In her memoirs, which she wrote in the years after her husband's death in 1885, Julia noted: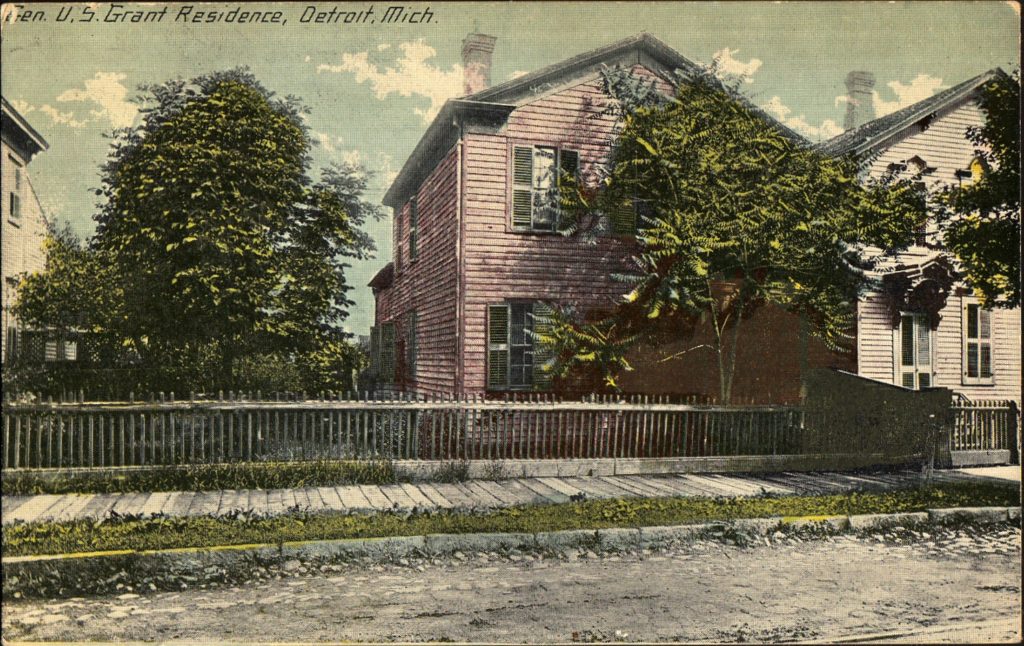 "Our house was very snug and convenient: two sitting rooms, dining room, bedroom, and kitchen all on the first floor. This last was so convenient for me to make my culinary experiments. The grounds were quite large, extending around the house on all sides, and at the back was a nice carriage house and stable for Nelly Bly, the Captain's pretty, fleet, little mare of which he was so fond and so proud."
The Grants in Detroit
In 1849, Detroit's population was just under 25,000 people and it was still considered a "frontier post." Nevertheless, the Grants enjoyed their time in the town. Colonel James Pitman, an army officer who was acquainted with the Grants during this time wrote, "U.S. Grant was at that time a familiar figure in Detroit society. A man as well-known as any residing in the city at that time."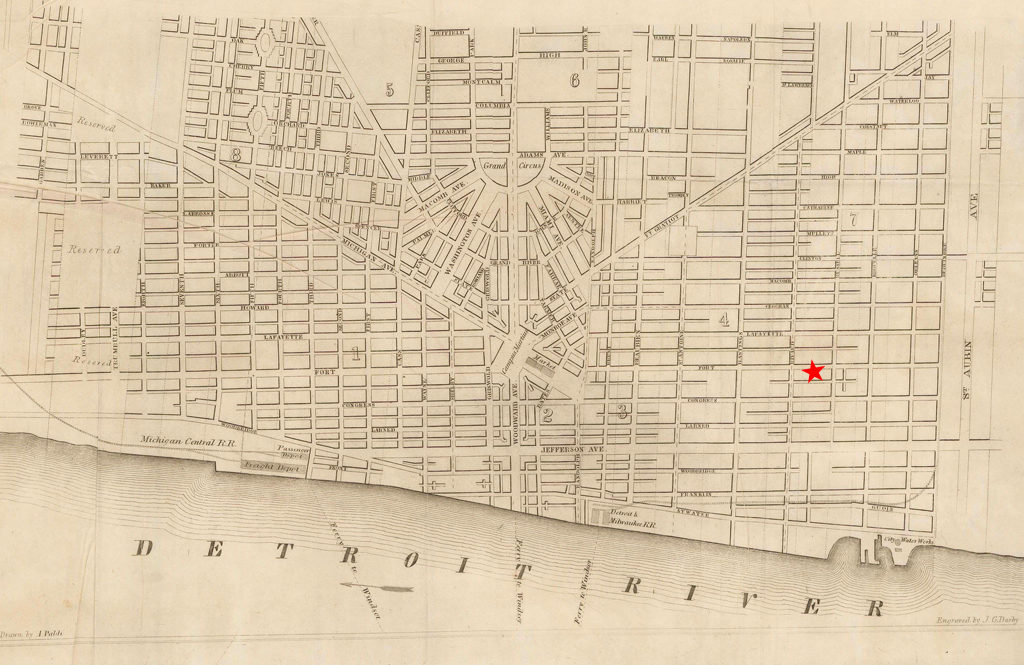 Julia was more outgoing than her husband, and she ensured they were involved in Detroit society. They attended parties, dances and dinners. On quiet evenings at home, Ulysses would read to Julia.
Ulysses did become more animated when he raced his horse, Nelly Bly, up and down Fort Street, to thunderous applause. Grant was an excellent horseman, and often beat his competitors in races.
Julia became pregnant with the couple's first son, Frederick Dent Grant, while in Detroit. She traveled to her family home in St. Louis to be near her mother in the fall of 1849 to have the baby. They returned to Detroit in early June 1850, when Frederick was less than one month old.
On January 10, 1851, Grant filed complaints against two notable Detroiters, Antoine Beaubien, Jr. and Zachary Chandler. He claimed that he slipped and fell on the ice outside their homes on Jefferson Avenue near Antoine Street. During a trial before a jury, Chandler is reported to have exclaimed "If you soldiers would keep sober, perhaps you would not fall on people's pavements and hurt your legs." The jury found in favor of Grant and Chandler was fined six cents.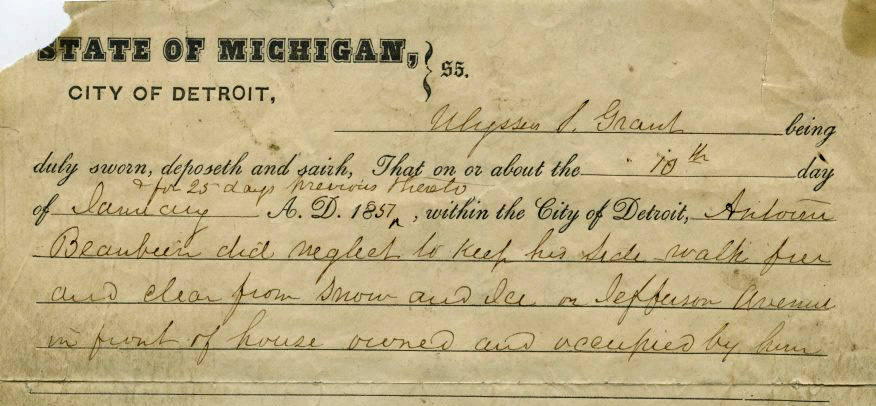 While drinking among soldiers at frontier outposts was common during the time period, historians have speculated that Chandler's remarks were much more personal. Grant struggled with alcoholism throughout his life, and there were reports that he would often over imbibe when Julia was out of town.
In his recollections of Grant at Detroit, Colonel Pittman noted that the Grant had sought counsel from a Methodist minister and temperance advocate named Dr. George Taylor. He wrote, "I think that Dr. Taylor helped Grant a great deal. It was said that he had a long talk with Grant … and told him he could not safely use liquor in any form and Grant acknowledged this and took the pledge [of abstinence] and thereafter used no liquor at all in Detroit."
In June 1851, Grant was transferred back to Sackets Harbor, New York, and he, Julia and young Fred departed the city.