Prep begins on the Grant Home for late 2019 move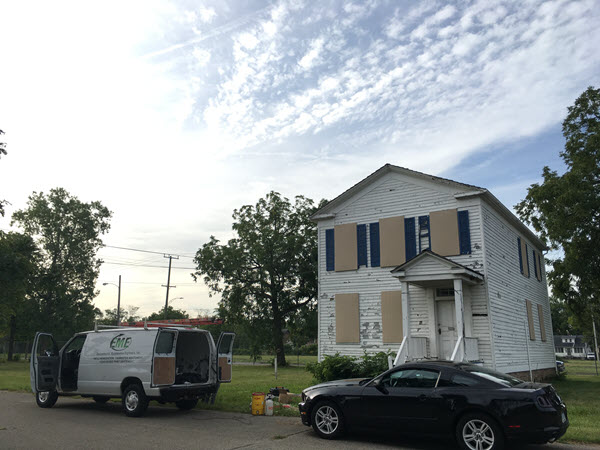 Work began today to prepare the former home of Julia and Ulysses S. Grant for its move to Eastern Market.
The historic home, which was built in the 1830s, has been remodeled and renovated over its history. I In preparing for the move, crews discovered lead paint on both exterior and interior walls. Asbestos was also found in materials inside the home.
"The house requires extensive renovation. Most of the work will take place after the move to Eastern Market," said Sandra Clark, director of the Michigan History Center. "However, we are removing lead paint and asbestos now, to eliminate risk of contamination during the move process."
Both lead paint and asbestos pose serious health risks and require professional removal.
"We are working with companies that are trained to remove these dangerous materials safely." said David Tobar, president of the Eastern Market Development Corporation. "They will spend the next 2 to 3 weeks conducting the hazardous materials abatement."
Funding for the removal of lead paint and asbestos is made possible by a grant from the Michigan State Housing and Development Authority. The grant will also cover costs associated with physically moving the home.
The date for moving the house has not been set, but is expected to take place before the end of 2019. Project partners are working with multiple City of Detroit departments to secure permits for the move. In addition, planning the route, preparing the new site and scheduling the movers is expected to take 2 to 3 months.